Halloween Group Costumes: Creepy Squad Goals
Halloween Group Costumes: Creepy Squad Goals
Don't want to be alone, stick this Halloween? Start convincing your friends or siblings to go for a group costume! Whether you succeed in convincing a single friend or a large group, there is always an exciting option that you can choose from! None of the hustle is worth it if you get mixed up in the throngs of cosplayers. Be unique, even if it means going in big numbers.
You can match or contrast your Halloween Jackets, show up as a well-curated complete cast of a show, or a mind-blowing cosplay where you all dress up as different Instagram filters. Read about how you can maintain a streak of the killer and funny costumes in a row!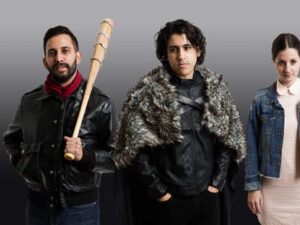 Visit For 500 Holloween Costumes Ideas
Dapper Duos!
No matter how iconic your couple costume is, it can never be classified under group costumes, and yet it is always better than a single show. A sister duo can show up as the most loved fictional characters – Elsa and Anna. The frozen queens are not only famous in the kids' world but winning the hearts of adults too.
The Incredible couples costume is ideal if you and your partner have a killer sense of humor. Slaying on All Hallows' Eve becomes extra fun when you have a partner to share your happiness. Take your family and friends on a nostalgic trip down the memory lane by bringing a blast from the past. Wilma and Fred couple from The Flintstones is a stellar choice because no one would be expecting this much creativity!
Do not forget that couples aren't the only ones who get to show up in a power duo. Parents with their kids can also opt for this option. Pennywise and Georgie will turn heads left, right, and center with the chilling vibes. But even if all these perfectly curated costumes do not satisfy that unique craving, then go for an easy DIY.
S' mores snack with one person dressed as chocolate and the other as the marshmallow will keep you in the eyes for sure. Without any doubt, set a goal for others around you this Halloween by dressing up in your best-coordinated outfits!
READ AlSO:-
Terrific Trios!
What better way to show up as a trio than the famous bands? The Jonas Brothers' cosplay will only require a couple of regular wear outfits you can utilize more than once. For girls,' Charlie's Angel's are going to bring you an epic experience. Jane, Elena, and Sabina exhibit kickass vibes. To get into their characters, you need first to decide who is going to be whom.
Jane is know-it-all and sassy while Sabina has many disguises. For Elena, her conservative style is simpler than the other girls. You can either be one of these killer girls or Celeste, Jane and Madeline from Big Little Lies. Once again, keep in mind that only because you are in a group does not mean you stop brainstorming for the right costume.
You have to take the role you know you can pull off, and the best way to know this is to try pulling it once before the main event! When considering trios, no one can forget Donna, Rosie, and Tanya from the epic Mamma Mia. A chance to wear flared denims and show an elite attitude is too good to let it pass.
The More The Merrier!
You are the most successful on Halloween if you have convinced more than two friends to dress up in a similar theme. A large group might have trouble when the characters are too good, and two people want to be the same thing. Imagine Captain Marvel's Halloween Movie Jacket on two people in the same group – looks boring.
Better to DIY your costumes and be unique! A group of different cereal boxes is going to grab all the attention at a theme party. Kudos to those who manage movie or TV show inspired ones without raising any conflicts. For instance, The Breakfast Club's Bender, Andrew, Claire, Brian, and Allison are simple people. You can probably find what you need for this group already in your closets for this.
From the archives, The Great Gatsby is an ideal choice. Not an average cosplay but a unique one. This cosplay theme's glamourous look is exciting and far from the ones you get by accomplishing a simple DIY. Another one of the glamourous but gloomy group, The Hunger Games group is complex. Some get to dress to impress, but the others might have to tone down a bit!
No matter what you select, keep an open mind when you are gathering a group. Every participant is required to put in effort and time; only then you can produce something iconic. Without mutual efforts, the grouping is useless for many reasons!
Latest posts by Karan Singh
(see all)