Why You Should Choose Magento For Your E-Commerce Platform?
If you want to develop your eCommerce store and generate revenue, making it user-friendly is necessary. It requires a lot of designing, planning, and other strategies to develop your online store. 
Many well-known sources claim that if you want to match the fast-paced eCommerce development, Magento is the best alternative for it. Magento development can cope with fast-growing online companies. It can also provide agile methods for the rapid development of your eCommerce platform.
You might like to know that there are a quarter of eCommerce sites globally that are built using a Magento platform. This thing is possible because Magento is a fully-featured and most-flexible eCommerce development framework. Let's learn more about why to choose Magento for modern development.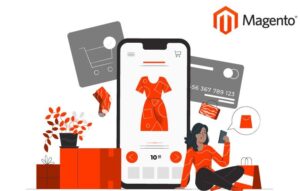 Magento- Overview
The Magento platform is developed using PHP and helps developers to build eCommerce websites. It was made available back on March 31, 2008, on the Zend framework.
In today's time, thousands of organizations are using Magento to begin their online business. Some of the popular sites are Samsung, Nike, and many more.
In 2018, Magento was acquired by Adobe and ultimately this platform became more successful in developing the enterprise market.
In 2020, the Magento platform was one of the three platforms to which clients migrated the most. While very seldom online store owners chose other eCommerce platforms.
Additionally, Magento provides 3 variants of its core framework. They are:
Magento is Open source (a free edition and non-hosted)

Magento Commerce Cloud is hosted by the framework itself on the AWS stack

Magento Enterprise Edition (flagship edition with more support and features)
Customers can choose any edition as per their project requirements.
From this, it is clear that Magento is a popular choice for developing an eCommerce store. Let's see more factors that make Magento a popular platform amongst eCommerce development companies.
Why choose Magento for eCommerce development?
In this section, we will see the benefits of Magento along with its features that make Magento a popular choice amongst developers.
It is an Open Source framework
There's an open-source variant of this framework and that is the reason why many developers prefer the Magento framework. It means that anyone who is technically skilled in Magento development can easily use the platform for their benefit.
The CE- Magento Community Edition is a free-to-use variant. It is also easy to use and install. If you want to build your online platform using this edition, you can hire a developers team. If you are a developer yourself, you can work on accelerating your online store's performance, functionalities, features, and development.
The huge Magento Community
Another prime reason to choose Magento for eCommerce development is the selfless work of the Magento community people. 
It has a huge community that comprises programmers, bloggers, developers, product managers, etc., from worldwide. They help with solving doubts and other work-related issues of Magento users on an everyday basis.
They always ensure that everyone is working on the same page. If any developer in the community or who is using Magento is facing issues, they can always count on community resources to get an accurate solution to that error. If there's no proper solution, he/she can even ask other members to help them solve the issue. 
Additionally, there are regular updates in the framework. So, if you are facing any error in the current version, it might be easily abducted in the next version.
It is a Scalable platform
With Magento coding best practices one can easily scale up or down the Magento platform as per their requirements. Whether you own a small or large eCommerce store, this platform adapts as per your needs because it is scalable and flexible.
A user-friendly way to develop an eCommerce store
Magento provides different features like product reviews, easy website navigation, zoom-in capabilities, etc. Hence, the UI of your store can be managed easily and it can give the user an amazing shopping experience online.
Easily Manageable
The Magento platform is easily manageable and with it, one can manage different stores using a single admin panel. This feature helps you save a lot of effort and time when you manage online sales. It also has features like multi-lingual and currency support, international support, order and shipping management, etc.
Magento platform supports Mobile Commerce
In the next few years, the mobile plan is expected to take the lead in managing online purchases. So, if your store is not mobile-ready and if you are thinking of switching to a new framework, both the Enterprise edition and Magento community will offer mobile commerce experiences across different devices and web browsers.
Various Security and Payment options
Using SSL security along with dedicated IPs is easily possible with the help of Magento. It ensures that customers feel safe while purchasing online. The framework supports various payment options which makes the payment process easy and secure for the end user.
SEO (Search Engine Optimization)
Getting traffic using search engines is the most effective way to get a return on the investment. Magento helps SEO by allowing developers to develop URLs, descriptions, and tags with relevant keywords. Not only Magento helps you drive inbound interactions. Moreover, it has powerful tools for boosting conversion optimization and the proper value of cross-sells and upsells.
Easy Integration with third-party tools
The Magento platform helps you with easy integration of any 3rd party tool, extensions, apps, and additional plug-ins for optimizing the eCommerce store like marketing automation, gateways, tag management, shipping providers, etc.
Reporting and Analytics
While using Magento, one can easily integrate different tools like Google Base, Google Analytics, Google Checkout, etc., for assisting us to keep a record of the customers and market to them according to their requirements.
Why choose Magento for eCommerce- Final Verdict
The Magento platform is gaining popularity with time. Due to its features like scalability, flexibility, security, and many more, developers are preferring to use Magento for their eCommerce platform. If you require more guidance on Magento, comment on your queries here. We are there for your help! Till then, happy reading!
Latest posts by Karan Singh
(see all)