How To Fix Omegle Error Connecting To Server?
When you try to connect new people on Omegle sometimes it shows an error connecting to server: please try again. This Omegle server connection error is a common issue that almost all users face at a time. It happens of a sudden without any reason that lets you confuse why it is happening and how to restore it. 
Well, here we will tell you how to fix Omegle error connecting to server and why it happens?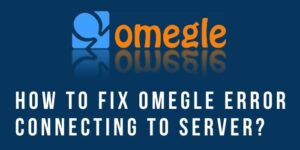 Why Omegle Is Showing Error Connecting To Server?
Omegle does not give a specific reason, why it's not working so there can be any reason mentioned below for showing Omegle server error. 
Internet connection speed or data issue. 

Maybe your banned or suspended from Omegle. 

Your ISP blocked your Omegle attempt. 

Outdated or incorrect

configuration

setting in the browser. 

Maybe the Omegle site is crashing that you can't do anything about.  
Any of this might be the reason if your phone is showing an error connecting to server Omegle. If you are facing any kind of network issue then it is highly recommended to use a VPN. You have ample opportunity to grab best company on this coming vpn black friday sale 2021.
Solution For Omegle Error Connecting To Server: Please Try Again?
Use this technique mentioned below to fix the server connection error on Omegle. And, if this doesn't work then we will tell you what to do next to restore the error.  
1.  Refresh And Rejoin The Omegle Site
Many times Omegle server can't bear the load of traffic and starts showing server error in connection. If you rejoin or refresh the site a few times then Omegle can start working.     
2. Restart Your Data or Router
Sometimes your data speed or connectivity issue is the reason for server error connection. When you shut off the power of your data or router and turn it back can help to restore connectivity issues. 
And if it doesn't work properly then you can also consider restarting your device.
3. Erase The Browse Cache 
If you are tired of refreshing Omegle or restarting browser data then relax and erase browse cache. It looks simple but it really an effective way to fix the problem of server load or formatting issues on websites.
4. Change Your Network 
If the above three techniques don't work for you then there might be a case that your network is blocking Omegle. To avoid this you can shift to another network or connect to public wifi. Changing your network also helps you in the change of your IP address. 
5. Flush DNS 
Flush DNS is an easy and right way to solve some server issues and it'll definitely restore your Omegle server error. 
Follow this method to flush DNS and Winsock reset.
For PC:
Open Windows command prompt as and as an administrator and type the code and enter. 
ipconfig /flushdns and click enter

ipconfig /registerdns and click enter

ipconfig /release and click enter

ipconfig /renew and click enter

netsh winsock reset and click enter
Now restart your computer and you'll see that the Omegle error connecting to server on pc will resolve.  
For Mac:
Press command + space and search terminal.

Then input the command of flushing the cache as per your macOS version. 
What Do If You're Still Getting An Omegle Technical Error?
We hope the tricks help you to fix Omegle error connecting to server, and if you still facing it then read below. 
If you are an enthusiast of Omegle then we suggest you try another device for Omegle. The biggest benefit of the switching device is that your IP address is changed and maybe your conflict of Omegle is of IP address. 
And, if you get this problem every time you use then we suggest you use a VPN. It helps you to change the IP that fixes the Omegle technical error as it mostly occurred on the IP address. With a VPN you can make uninterrupted video and voice chat with strangers with more safety and anonymity. Sometimes you need to add more video content while meeting with other people. In that case, these video editing software black friday sale will help you in finding the best software for your work. 
We suggest you these 3 VPNs to permanently fix Omegle error connecting to server.  
NordVPN

– Best VPN for Omegle with a fast server network in 60 countries. 

Private Internet Access

–  Large and reliable server network of more than 29,000+ servers all over the globe. 

Cyberghost

– Cheap and decent option with extra protection on public wifi. 
How Do I Fix Omegle Camera Error?
As the error connecting to server Omegle doesn't have a proper explanation, Omegle's error with camera also doesn't have an explanation. You have to try all the tricks mentioned below until the Omegle camera error doesn't fix. 
Change the Tab and try again on Omegle. 

Check the camera connection with other cameras using applications. 

Check the access of the camera to Omegle and if it is off then turn it on. 

Update the browser to the new version if it is not. 

Clear all cookies and cache of the browser. 
From these 5 tricks, you can fix Omegle error with camera definitely. If it doesn't work then it might be that the omegle server is crashed that you can't do anything about.
Conclusion 
We are hoping this article on how to fix Omegle error connecting to server help you in fixing the Omegle error. You can use these tricks whenever you stumble on an error in the camera or error connection with server. 
We recommend you use VPN black friday deals as you never get this error problem again and you can securely and anonymously chat or video chat. 
Frequently Asked Question About Omegle
1. Is Omegle Safe To Use? 
It looks safe as it doesn't ask for your information to log in. But it is a social platform that means you are safe from Omegle but other Omegle users might be dangerous for you. And in past, there are various cases where hackers harm Omegle users. 
2. Does Omegle Save Your Videos?
Yes, Omegle saves your video or, voice or, chat log with IP address for 120 days in its server. Plus your video is monitored by Omegle and a stranger can also save your video, voice, and chat. 
3. Can Someone Track My IP On Omegle?
Yes, Omegle is a hackable website and it is quite easy for a hacker to track your IP Omegle. But in reality, you don't have too much worry about your IP as you can easily hide with a VPN.
4. Is Omegle Safe For Kids? 
No, it is not a type of website for kids as you encounter adult content. And both moderate and unmoderated sections are unsafe for kids. Omegle officially says that it is for 18+ or 13+ with parental permission.
5. How Long An Omegle Ban Can Last?
Omegle ban users for violation of its terms and service usually ban lasts for a few days or a week. But if you violate the terms repeatedly then the ban can long upto 120 days. 
6. What Are The Alternatives Of Omegle?
If you are got tired of Omegle server issues or its policy then you can look for these best alternatives of Omegle. Alternatives are AdultFriendFinder, OmeTV, HIYAK, ChatRandom, Omegle-chat, TinyChat, PalTalk, CamSurf.
7. How To Get Unbanned From Omegle? 
Omegle bans IP addresses, not a user, so you change your IP address to remove the ban. You can use a VPN or shift to public wifi or use another device to change your IP. Also, you can wait for a few days to automatically bet unbanned for Omegle. 
Latest posts by Karan Singh
(see all)