Top 15 Best Tattoo Studios & Artists in Delhi NCR, India
In the last decade, the tattoo has become a normal thing than it was ever before. In India, it is no longer just the Om symbol done in some dicey shack. Today, tattooing has become a commercial profession and also the one that stands out to be an instrument to express your feelings. The tattoo parlors in India are equipped with international equipment and meet the standards as well, while the Indian tattoo artists are making a name for themselves globally. They have carved a niche in styles such as dot work, watercolor effect, and experimented with wooden needles. The Indian tattoos of the modern world are thus an amalgamation of what has been passed down to us and the western influence.
In the previous times, when the tattoo still had to gain its footing in India, people had to be certain of their designs, but now, one just needs a great idea in their head and the tattoo artists would use his artistic acumen to create something new for you. The Indian tattoo industry has grown so much today that multiple artists have not only come out to be best in India but internationally too. They have been credited with putting something new to the table. Take a look at the top 15 Indian Tattoo Artists and Best Tattoo Studios in Delhi
List of Top 15 Best Tattoo Studios & Artists in Delhi NCR, New Delhi
1. Devil'z Tattooz
The biggest chain of tattoo studios in town, Devil'z Tattooz is the place to be if you wish to get etched on! What makes Devil'z so special is the diverse fleet of skilled tattoo artists, including the highly-skilled female tattoo artists, Shyamil Panda. Founder Lokesh Verma was one of the first people to start inking in India and now specialises in realistic images. With a variety of tattoo designs to choose from, an option for bespoke artistry and high safety standards, Devil'z Tattooz is the best in the business. Plus, the studio also prides itself on having many celebrities as clients – awesome, isn't it?!
2. Inkinn – Tattoo Studio
The cool kids of Inkinn, Max and Amit, promise to deliver designs that will fit your personality and reflect your thoughts to the T. With everything from black and grey portraits to cover-ups and modifications, a trip to their studio in Def Col will have everything to suit your inking needs.
The peeps over at Inkinn are particularly interested in the history of tribal tattooing and the origins of body art, and will help you to choose a design with a real story behind it. Sounds rad, doesn't it?
3. DNA Tattoos Art
Situated in the thick of the action, in the crowded lanes of South Ex, DNA Tattoo Art is the tattoo studio you want to go to along with a bunch of friends, even if you're not the one brave enough to get inked!
They offer top-notch tattoo art, ranging from the old and new school to Maori, tribal or even Japanese tattoo styles (wow!). Hygiene is the chief concern here and the studio is completely sanitised, so just come on over guys!
4. Manjeet Tattooz
Manjeet Singh is an award-winning tattoo artist who specialises in stunning and realistic portraits and religious tattoos, but can also create bespoke designs according to client preferences. This studio is devoted to hygienic inking standards and has a strict policy on customers being over eighteen years of age. If you're keen to try your hand at this art and learn from the best, Manjeet also holds short and long term courses for aspiring tattoo artists. West Delhi peeps, this one's for you!
5. N.A Tattoo Studio (Abhishek Ahuja)
N.A Tattoo Studio is a great place to go if you're looking for a beautiful colour tattoo, especially one of the 3D variety *starry-eyed*. No compromises are made at this studio when it comes to the client's safety as all equipment is thoroughly sterilized and the needles are never reused, so you can choose your dream design without worrying about safety or infections!
6. Tattoo Villa
Tattoo Villa refers to cleanliness as an unwritten rule in the tattoo business and this is certainly evident in their studio, which is impeccably clean! Situated in Lajpat Nagar, it's right in the bustling, crowded confines of the marketplace.
The founder of the studio, Harminder Sohal, has various permanent clients who flock to him from all over the world to enjoy his expertise and creativity when it comes to body art. Come on by for a look-see!
7. KDz Tattoos
With a branch in Gurgaon and Delhi, KDz is a cool place to go if you want to make a bold statement. These guys are pretty popular owing to positive reviews and great word of mouth publicity.
KDz offers a wide spectrum of designs to choose from that speak volumes about the personal style of an individual. Masters of bespoke designs, the studio has a set of skilled tattoo artists who make sure that the customer is satisfied by the end of the designing session. Visit their website for expert tips on tattoo aftercare or to enrol in a tattoo art training course!
8. RIP Tattoos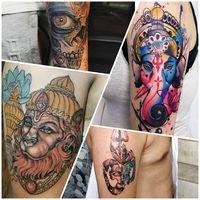 Founded in 2009 by one of the most famous tattoo artists, Mr Abhijeet Dhalia, the place has created a name for itself in cities like Delhi, Imphal, Goa and more. The place is famous for its high quality, custom made designs and the huge variety of artworks ranging from black and grey to coloured, portraits, pinups, realistic, hyper-realistic, cover-up, Japanese and Maori tribal art.
The studio strictly adheres to international safety guidelines and hygiene protocols, so basically you're in safe hands. Moreover, if you are interested in making a career in tattooing, you can get yourself enrolled in one of their training courses as well!
Where | RIP Tattoos – A-90, 2nd-Floor, Lajpat Nagar II & UB-40, 1st Floor, Jawahar Nagar, Kamla Nagar
Call Them | +91 9899 987 986
Website: http://www.riptattooz.com/
9. Monsters Ink. – Nimz Tattoo
Monsters Ink in Gurgaon is famous for the detailed and intricate work done by the owner, Nimz. The artist has a brilliant design aesthetic and some really good imaginative powers. You can simply head to this studio with your tattoo idea and can completely trust this guy to etch a beautiful tattoo you'll treasure forever!
10. 3D Tattoo Studio
Located in South Delhi, 3D Tattoo Studio specializes in traditional Indian, oriental and tribal tattoos. The studio provides permanent, temporary and cosmetic tattoos, along with facilities like cosmetic eye lining and skin matching. With one of the most innovative artists in the house, trust us you won't be disappointed with your tattoo and would be proudly sporting it throughout your life!
11. Angel Tattoo Art
With studios in Rajouri Garden and Gurgaon, Angel Tattoo Design Studio boasts of having a team of the best professional and highly experienced tattoo artists in Delhi. The studio doesn't compromise on the safety standards and gives the best tattoo services in a simple to advance tattoo designs customization, 3D tattoos, portrait tattoos & body and ear-piercings. You can also opt for a temporary, fake and airbrush tattoo here!
12. Hawk Tattoo Delhi
Going by the tagline, 'You Dream It, We Draw It', Hawk Tattoo offers a plethora of tattoos to choose from like 2D tattoos, 3D tattoos, illusion tattoo, shaded tattoo, permanent tattoo, temporary tattoo, spray tattoo and biomechanical tattoo, and the list goes on. The place also offers facilities like tattoo removal, laser treatment and tattoo redesigning, so come on by!
13. Mo Naga, Godna Gram
This guy is as tribal as it can get. If tribal or Celtic ink is something anyone wants, Mo is the best in the field. Besides tribal designs, Mo also specializes in geometrical and abstract tattoo designs. His style of tattooing is strong and bold and he makes sure that his designs are too. He loves to work with thick and sharp lines with a lot of dark inks or straight-up black ink.
Some of his designs spring up from his creativeness and the others from his interest in human anatomy. He gives great importance to the placement ideas as well. In his words, "I studied design, and my obsession with human anatomy and aesthetic means that my tattoos are art designed to flow or break the edges of the body. Getting the right proportion and balance with on the body and the parts specifically is my priority."
Shop Name: Godna Gram- The Tattoo Village, New Delhi
Address: 1st floor, 253-a/3c, Shahpur Jat, Siri Fort, New Delhi, Delhi 110049
14. Sheena Deviah
The journey of tattoo for Sheena began when she was introduced by her friend to "homemade" Indian tattoos. In her words, "I've always had a love affair with tattoos and I'd been wanting to tattoo myself but buying a machine seemed a bit intimidating. So (don't try this at home), I gave myself a small dot tattoo with a sewing needle and Indian ink. I wasn't terribly pleased with the results. Off then, I went on to the internet, did a bit of research, found a local tattoo supply store, and bought myself some basic supplies." And honestly, this is where it all began for her.
For her, her tattoo journey was a hit and error method that made her sure about her working style. Her style can be said to be pretty simplistic and minimalistic which is quite a trend these days. She does a lot of illustration inspired black line drawings using sterilized tattoo needed that comes in different sizes. She swears by the tattoo ink that she uses.
Shop Name: Desi Creative
Email: admin@desicreative.com
Website: desicreative.com
15. Amritraj Sachdev
Many people think that art is something that is not here to stay and does not realize its potential until they finally do. This is the story for Amritraj Sachdev too. This tattoo artist did not let his childhood interest in art fade away but incorporated his forte in sketching to earn bread and butter out of it.
However, he was interested only in sketching and his love for tattoos did not wake until later in his life when he took up a course in tattoo making in Mumbai. He began as a freelancer but his hard work leads him to be as successful as he is today. He owns not just one but two studios in Mumbai (Mulund and Thane) and named it Insane Tattoo Studio. His area of expertise is combining realism and abstract concepts into his work.
Latest posts by Karan Singh
(see all)