The 6 Famous Festivals in Punjab You Must Experience
Punjab is known for its cultural heritage, food, and functions. It is among the oldest states of India that have deep historical roots. It is also very popular for its grand lifestyle and colorful festivals. This land consists of five rivers that are blessed with natural resources and greenery. The people of Punjab live life fully and celebrate every occasion with joy. If you're thinking of a trip to Punjab, you must check the calendar to experience the festivals of Punjab. Here we are going to discuss the 6most famous festivals of Punjab, which you can't miss experiencing. Let's begin without wasting time.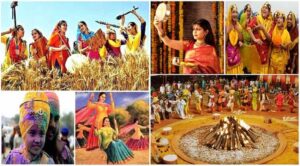 List Of The 6 Famous Festivals in Punjab You Must Experience
Lohri is one of the most famous festivals of Punjab, which is celebrated in the chilled winter. It is commemorated on 13th January every year. It is observed to be the longest night of the winter in India. It is a sacred festival that is celebrated by burning the wood logs, also called a bonfire. Generally, people worship the fire for providing warmth in the frosty winters. Also, they eat jaggery, sesame seeds, and popcorn during these festivals. Most Punjabis make Makki di roti, Sarson ka saag, and dal makhani at dinner. Punjabi folk music is the pride of Lohri. People move their feet on Punjabi beats and fill the air with festive spirit. They wear traditional Punjabi outfits, salwar kameez, and kurta pajamas on this occasion. 
It is a common belief among Punjabi people that the sun is invoked through Lohri songs to provide warmth. The remnants of history also show that Lohri is celebrated to remember the Dulla Bhatti wala, who saves two girls named Sundari and Mundari from the clutches of Mughals. Typically days start becoming longer as well as warmer after the Lohri festival. 
In India, it is a trend to celebrate occupational capacities as it allows people to get bread and butter, and Baisakhi does the same. The harvest festival of Punjab is commemorated on the 1st day of Vaisakh month, which generally comes on 13th April; however, the date may vary. Although this spring festival is celebrated in many parts of India, in Punjab, Baisakhi is commemorated with energy and vigor. It marks the beginning of the spring season and the end of the harvest season. Baisakhi is the first day of the Sikh calendar. 
People decorate their houses, buy new clothes and visit the fair held in different parts of Punjab. Like Lohri, Punjabis perform their traditional dance bhangra and giddha during this festival. In addition, the sound of dhol and Punjabi songs creates a mesmerizing atmosphere. 

Hola Mohalla is celebrated only in the Punjab region a day after holi. It is commemorated in Anandpur Sahib and Kiratpur Sahib. All gurudwaras are decorated well on this occasion. Moreover,  kirtans and langars are arranged. Gatka and horse riding are also played during this festival. The entire area of Punjab is soaked into the beauty of vibrant colors. This festival was begun by Guru Govind Singh and reflected the Khalsa Panth. Some people also visit Manikaran Sahib in Himachal Pradesh to celebrate Holla Mohalla. 

Karwa Chauth is celebrated in entire north India but is most famous in Punjab. Actually, it originated in Punjab. It is commemorated to strengthen the bonds between husband and wife.
The wife keeps fast or upvas on the day of Krishan Paksha in the month of Kartik for the long life and well-being of their husbands. 
All the married women dressed well on this day by wearing the brand new traditional dress. Generally, women wear salwar suits and lehenga on Karwa Chauth and pair them with phulkari. They open their fast by seeing the moon and having a sip of water from their husband's hand. Generally, it comes in the month of October, but the date may vary. 
Next in line is Teeyan, which is also called Teej in Hindi. It signifies the arrival of the monsoon. The women celebrate it, they wear shiny clothes and perform folk dance gida during this festival. Also, women ride swings that are tied to trees and sing Punjabi folk songs for the well-being of their partners. Mehndi and green bangles are also a key part of this festival. In earlier times, married women used to commemorate this festival at their parent's house; however, things have changed with time.
Although Basant Panchmi is celebrated all over India, Punjabi celebrates it with unique zeal. This festival signifies the arrival of spring and is considered to be very auspicious. Generally, people worship Goddess Saraswati and fly kites on this occasion. Some people also prefer to buy a house, getting married on this day. Furthermore, people prefer to wear yellow attires on Basant Panchami.
The Bottom Line-:
Hope you like this article. Stay connected to know more about Punjabi culture and get the latest Punjab news.
Latest posts by Karan Singh
(see all)