Top 10 Best Invoicing Software for Freelancers (List of 2023)
Top 10 Invoicing software for freelancers
Managing the business aspects of your work will always have a significant impact on your overall business, whether you are a freelancer or developer. Having good skills will get you started in business, but you need to run the business effectively to make money in the long run.
Freelancing is not a typical career but a business, and you're responsible for managing all of your projects efficiently, like handling payments, invoices, and taxes. Invoicing plays a huge role in running a freelance business. It's not complicated, but it's a critical part of getting paid for the work that you've done. Freelancing businesses need to know how to manage their growth and get paid in time. So, choosing invoicing software is helpful and recommended.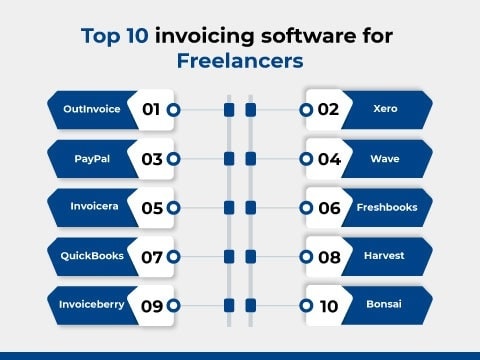 There are many apps available in the market that will help you to create and manage invoices. These tools will help you save your time, keep you organized and ensure that your records are accurate and complete. You can easily avoid the stress of being overworked now as the software handles the process for you.
This article will highlight some of the best invoicing software for freelancing business. Some of the software featured on the list are very simple and focused on invoicing, and on the other hand, there are more feature-rich and include things like time tracking and even some accounting tools. Some invoicing apps will allow you to manage invoices for free.
The List of top 10 best invoicing Apps for freelancers are:
1.OutInvoice
2.Xero
3.PayPal
4.Wave
5.Invoicera
6. FreshBooks
7. QuickBooks
8. Harvest
9. Invoiceberry
10. Bonsai
1.OutInvoice
OutInvoice is one of the best invoicing software for freelancers and small businesses. You can make professional invoices in a single click and get paid in seconds with the OutInvoice. OutInvoice also accepts multiple payment methods like Stripe, PayPal. They firstly offer you 30 days free trial to checkout. You can create unlimited business profiles, unlimited client profiles, unlimited Invoices with no transaction fees with OutInvoice. It is a mobile-friendly design and has secure payment methods, instant online invoices, and many more. The goal of OutInvoice is to help business owners run their businesses by making invoicing and billing processes simple. It makes the billing work effortless and helps you to remain organized.
Features:
Manage Multiple Businesses.

Send Invoices Fast.

Accept Online Payments.

Save Credit Cards.

Keep Invoice Status in Check.

Keep finances in check.
2.Xero
Xero is one of the most reliable and secure invoicing software options available in the market. It offers you constant support and doesn't limit how many users your business can have in each account. You can also customize your invoice to suit your company means it's easy to set up recurring options. Xero also gives gentle reminders to your clients in case they are late with a payment processor. The emails are automated, so you don't have to bother with them by sending them manually. There are also multiple payment methods that Xero accepts, like PayPal, or debit, or credit card, which makes it convenient for the clients to pay. You can send your invoices with anything like a tablet or your cell phone, and you'll get notified when your invoices are opened.
Features:
Pay bills ·

Claim expenses ·

Bank connections

Accept payments ·

Track projects ·

Payroll with Gusto

Bank reconciliation
3.PayPal
PayPal is the easiest solution as everyone probably has a PayPal business account. You can easily create unlimited invoices for unlimited clients using a free account. You don't have to pay for anything for invoicing functionality, and clients will also be able to pay very quickly through PayPal, by credit card, or through bank transfer.
PayPal fees will be applied to the money that you usually receive. If you choose PayPal for your invoice, you won't get as many features as you would with the other apps, but it may not matter to you. PayPal will show if the invoices have been paid or not. It does not have many features and functions, and there is not a lot you can do to manage invoices. But it is an excellent platform if most of your clients pay you through PayPal and you're looking for a simple way to deal with the invoices. It is a fast and easy process and also won't cost you anything extra.
Features:
Accept Payments Online.

Barcode Scanning.

Bill Me Later.

Credit Card Reader.

Express Checkout.

Inventory Tracking.

Mobile Card Reader.

Online Invoicing.
4.Wave
If you're looking for a more advanced option for invoicing, Wave is the best option for you. Wave offers you the most advanced features and functionality in their free plan. You can create and manage unlimited invoices for an unlimited number of clients with the free plan. You can also customize the invoice templates, create invoices for recurring billing, create and send estimates, get automatic payment reminders, and much more within the free plan.
Wave also provides a plan that will handle payroll taxes for you. They make some money through processing payments, and payroll taxes allow them to offer the invoicing functionality for free. You can also access accounting software with income and expense tracking, unlimited bank and credit card connections, and more with the free plan.
Features:
Accounting

Invoicing

Billing,

Payment Tracking

Payroll Management

Finance Management

Credit Card Processing, and

Receipt Scanning
5.Invoicera
Invoicera is a feature-rich invoicing and billing software. There are lots of features beyond the needs of the average freelancer, but you can consider if the features will help your growing business. Invoicera has different plans with limited functionality, they offer a free plan with limited functionality, and the free plan includes invoicing, but the only limitation is that you'll only be able to manage three clients per time on the free plan. But if you want to go with the pro plan, you'll be able to move up to 100 clients with just $15 per month. Late payment reminders, unlimited time tracking, profit and loss reporting, and 30+ payment gateways are included in all of the plans.
Features
Custom workflow management.

Expense management.

Time tracking.

Auto billing.

Reporting.

Estimates.

Late payment reminders.
6. FreshBooks
FreshBooks is an invoicing software that is geared towards freelancers and small businesses. It offers the options and features everything you need. So, it is considered a feature-rich app; it also includes accounting features in addition to invoicing. The lite plan starts with $15 per month, and you'll get five billable clients, unlimited invoices, and estimates unlimited expense tracking and time tracking. It accepts payment methods like ACH, credit cards, tax reports, and more. Though the plan has multiple good features, the number of clients it can bill per time is probably the most significant limitation. But with the next Plus plan, you can manage 50 billable clients for $25 per month. FreshBooks is a bit different from other apps because of its invoicing features. You can easily create balance sheets, general ledgers, trial balances, and more accounting features.
Features:
Easy To Use

Invoicing

Expenses

Estimates and Proposals

Time Tracking

Projects

Payments

Accounting
8. QuickBooks
QuickBooks is developed by Intuit Ince and is available in many editions like QuickBooks Online Simple Start, QuickBooks Online Essentials, and QuickBooks Online Plus. The essential invoicing software includes creating and sending professional invoices to clients with just a few clicks. It also includes other essential features like creating estimates, tracking expenses, complete client history with details of past invoices, payments, and balances, automatic backup of data, and more. It provides you an accurate billing and lots of payment options, and you'll get paid faster. You can run your business on your terms and provide you unlimited support.
Features:
Accept Payments Online.

Expense Tracker.

Inventory Tracking.

Invoice Software.

Job Costing.

Mileage Tracker.

Payroll Software.

Time Tracking Software.
8. Harvest
Harvest: It is originally a time-tracking app, but it also includes invoice functionality. Time-tracking features can be handy, especially when you're working as a team. It includes some cool features for team management and project management and integrates into those functions. You can easily create invoices in a short time and the projects that you've been tracking. Like others invoicing software, it also can set up automatic reminders for the payment. As it is more about time tracking software than invoicing, there aren't many vital invoicing features.
Features:
Simple Time Tracking.

Powerful Reports.

Fast Online Invoicing.

Estimates.

Expenses.

Add-ons.

Security & Privacy.
9. Invoiceberry
Invoiceberry is simplistic and straightforward to use. It needs no accounting knowledge to make the most out of this invoicing software. It offers you guidance that will simplify every step of the invoice-creation process and set up the recurring invoices without any hassle. It is perfectly suitable for freelancers and entrepreneurs to quickly create and send invoices and add their brand logos. You also can choose from several templates to choose from, and they all look and feel professional. You can try out three different plans, a 30-day-free plan and another solo plan that costs you $15 per month, and the Pro plan, which is $0 per month.
Features:
Invoice Creation

Expense and Payment Tracking

Client Management and

Report Creation

Schedule Recurring Invoices
10. Bonsai
Bonsai is an entirely free invoicing software; it works best if you're a freelancer with a reasonably simple business and not many over-complicated projects and have to stay within a fixed budget. They have got a whole pack of valuable resources for freelancers who want to run their business on autopilot. They keep your business data and information to help you to make better decisions. They also share more information like what it takes to get paid on time and charge more and more. This software lets you create beautiful freelancer invoicing templates to use repeatedly, has templated contacts and legally binding signatures to get you protected as a freelancer.
Features:
Unlimited Clients & Projects.

Proposals.

Contracts.

Invoicing & Payments.

Client CRM.

Project Management.

Task & Time Tracking.

iOS, Android, Chrome, & Mac Apps.
Conclusion
So, if you're looking for an app or software to easily create and manage invoices, you can choose any of the invoicing software listed above. They have multiple features that work with your needs perfectly. They come up with various plans like free and some with monthly subscriptions, and some with a pro. So, you can choose any invoicing software according to your business needs. It will help you take your freelance invoicing to the next level with whatever freelance invoice app you settle on.
So, choose an app that saves time, not something that makes your work just complicated. And work with the platform that does the best work and brings out the actual revenue.
Latest posts by Karan Singh
(see all)