Top 10 Bulk SMS Gateway Service Providers in India 2023
Hello Guys, if you have come here looking for the top 10 Bulk SMS Provider in India for your website or any institute, then let me tell you that you have come to the right place. Today I am going to tell you about the top 10 Best Bulk SMS Providers in India in this article, you can choose whatever you like. Below is a list of bulk sms provider in india.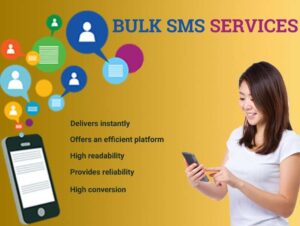 Here is a top 10 list of bulk sms service provider in India:
1. SMSHorizon
Known for its performance driven messaging services and transparent pricing, with SMSHorizon, you can expect a very good high quality SMS services. By quality, I mean the high deliverability rates, server uptime, accurate reporting and great support from their staff. Once I had an issue at 11 PM and I was able to get in touch with them and get it resolved.
The company is founded by Siddharth, a techie who graduated from the same college that I graduated from. It is a small company that takes great care of its customers unlike a big company with several services, products and support people.
As far as deliverability is concerned, you can expect almost 100% delivery on active numbers in 5-10 seconds on both promotional and transactional routes. The delivery status reporting is instant and always accessible online with a few clicks.
I use their services for all my SMS requirements and having used them first hand, it makes it to the top of my list in this post.
2. SpringEdge
SMS Platform built for developers by developers, Spring Edge has a easy to integrate options to enable sms functionality from code. They have built-in code libraries available for almost all the popular languages and platforms.
You can expact a good delivery rate and round the clock technical support. Their services are being used by big brands like HCL.
They have integration options with crm and erp softwares like SAP, Tally, vTiger and zoho crm. They also provide add-ons for e-commerce platforms like woocommerce, magento, opencart etc.
They are specialized in transactional SMS and Mostly messages get delivered in 2-5 seconds. Coming to pricing, its quite lesser than text local and msg91.
3. TextLocal
A UK based brand which is currently penetrating into Indian market in partnership with IMI Mobile which also owns the other Indian brand mvaayoo.
However, you will happen to get back-to-back calls every month through their sales team, if you had enquired them about their services in the past, that's a headache. So be careful before you leave your contact information with them 🙂
It seems they've good set of call center guys around for sales. While they might be clocking in good volume, somehow the messages gets delayed for minutes if you happen to experience their promotional route.
Coming to pricing, you can expect higher rates than above reviewed SMSHorizon for similar volumes and TextLocal is less flexible in customised plans/integrations.
4. Solutions Infini
Known for their branding and army of sales team, its notable to say that they've quite a lot of sales people around the city attempting to pitch their services.
However, biggest downside is that most employees/sales people change often and its not that easy to get in touch with right person when we're in need.
You can expect too many CC/BCC if you happen to take their services and the mail thread goes on and on before you get it actually solved.
Apart from SMS, they're doing quite good in voice call/IVR services through a separate brand called DialStreet. They have similar services to Exotel.
While their services are decent, they have relatively higher pricing than most providers.
5. Msg91
With a good number of resellers, Msg91 says, it provide a worldwide coverage with its service. They also boast of big name clients like Honda, PolicyBazaar and Intuit.
Their website design is very professional and you will feel like trusting them right from the start. They also provide a Google spreadsheet plugin and an Excel plugin which makes it easy to send SMS from a spreadsheet.
Their pricing is quite high if you are looking for small volumes. With high volumes, the pricing becomes very competitive. They also have a plan for startups where you can get free SMS credits by placing their logo on your website.
I have not tried their services yet, but some of my friends use it and they have no complaints on it so far. However, the pricing, support and the delivery speed is not that great.
6. BhashSMS
While they've got into the list for their high SMS volume through various users and resellers across India, its alarming to see their super low rates comparing to any other providers mentioned above, and so is the poor deliverability.
How could someone sell at nearly 50% lower rates than any other in the market? Obviously, you cannot expect all your messages to be delivered. This feedback comes from many friends and business associates using their services. You get what you pay for.
While you still happen to get marginal results, you will be missing out a large chunk. They say, with cheap services, comes higher maintenance. So, its always better to choose a premium service provider for better performance rather than the low cost ones.
While there are many other SMS service provides and aggregators in market, above are the noteworthy ones in retail sector.
7. Fast2SMS
Based in the center of India, Fast2SMS was started in 2011 in Bhopal, Madhya Pradesh. The SMS gateway provider caters to a mixed bunch of clients, like individuals, developers, startups, and education industry players. It allows new users to test their services for free by providing credits for testing when they sign up.
8. Exotel
One of the known bulk SMS service providers in India is Exotel. Launched in 2011, it offers specialized Voice solutions for business communication and aims to help large enterprises streamline and bring efficiency to their calling processes. It also provides SMS products via REST APIs. Businesses can use its services to send bulk SMS campaigns, appointment reminders, status updates, and survey forms. The implementation of its SMS API is charged based on usage by the business. Detailed reports on messages triggered are also provided by the SMS gateway provider.
9. Infobip
Infobip is a well-known SMS gateway provider in India. It offers communication services across channels, apart from SMS, such as WhatsApp Business, Viber, FB Messenger, LINE, and more. It enjoys direct connections with network operators globally, thereby ensuring better services to their customers.
While it is not headquartered in the country, its SMS gateway in India offers many solutions. Businesses can use its API or web platform to access its offerings.
10. Bulk SMS Gateway
One of the new and upcoming SMS gateway providers in India is Bulk SMS Gateway. It is a homegrown company serving several clients across the country, with a presence in Hyderabad, Bangalore, Chennai, Kolkata, Mumbai, and Delhi.
The SMS gateway provider allows small and medium enterprises to send Transactional SMS, Promotional SMS, Group SMS, Voice SMS, and Long Code SMS via API and its web-based interface. It has fixed open pricing for each service, based on the quantity of SMS the business wants to send.
FAQs.
1. How can I get access to SMS APIs?
Getting access to SMS APIs is easy:
Sign up for a free RapidAPI user account.
Find any available SMS API (and subscribe if necessary).
Test the Endpoints.
Grab the Code Snippet for your preferred programming language.
Integrate into your app!
2. What is SMS API Integration?
SMS API integration allows developers to utilize SMS providers to send and receive SMS text messages within their software, websites, or mobile applications.
3. What is a Messaging API?
Messaging API refers to any service that enables developers to implement various messaging technologies in an application via a single programmable interface. Source: PubNub View more messaging and chat APIs.
4. What is an SMS Gateway?
An SMS gateway allows a computer to send or receive Short Message Service (SMS) transmissions to or from a telecommunications network. Most messages are eventually routed into the mobile phone networks. Many SMS gateways support media conversion from email and other formats.
5. What is SMS gateway service?
An SMS gateway allows a computer to send or receive Short Message Service (SMS) transmissions to or from a telecommunications network. Most messages are eventually routed into the mobile phone networks. Many SMS gateways support media conversion from email and other formats.
Latest posts by Karan Singh
(see all)