Top 5 Best Packers and Movers in Ludhiana, Punjab, IBA Approved
Here you can find such a service provider who will cater you with premium services during entire process. On our Webiste you can find top 5 list of reliable Ludhiana Packers and Movers along with their contact info and addresses. They will provide you with rendered services which are customized such as Office Relocation Services, Transport Relocation Services, Household Relocation Services Loading, Warehousing, Vehicle Moving and more. So, below os the list of top 5 Best Packers and Movers in Ludhiana, Punjab, India, lets start the list.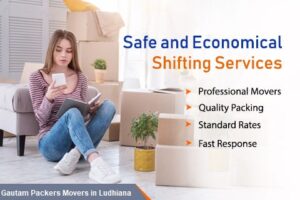 List of Top 5 Best Packers and Movers in Ludhiana, Punjab, IBA Approved
1. Gautam Packers Movers
The Gautam Packers and Movers in Ludhiana is the most trusted and largest moving company of Ludhiana. It has specialized in Household Shifting Services, Car Relocation Services, Storage Facility Services, Escorts Facility Services, Packing & Unpacking Services, Loading Unloading Services, Warehousing Services. Quality Packing & Time Bond Safe Delivery is our motto along with customer satisfaction as our goal, we at Gautam Packers and Movers's strive hard to satisfy our customers with safe and timely delivery. Our expertise… To maintain high standards of clients, we believe in the philosophy of unlimited business for unlimited client satisfaction. This will not only encourage but will also give us privilege to work hard to share your burden. It would be a matter of great privilege for us to whom we can serve with total commitment and dedication. We are always in search of innovative packing style to enhance our packing and moving skills. We have excellent infrastructure for handling Multi Tasking Packers and Movers job. .
Number:- 95699-81961
Address:- Samrala Chowk, Ludhiana – 141003
2. Agarwal Packers
Being renowned Agarwal packers in Ludhiana, we can be entrusted with any of your storage needs at any place of your choice for any duration you want. We have designed Home Storage solutions that enable us to offer this exclusive service. We also have Trucking Cubes, an enclosed robust case, providing a safe space for storage of your goods at the destination place. The thing that the clients can place their own lock on these Cubes makes this concept highly appreciated by them. With these flexible storage solutions, you can save hassles and your relocation from turning into the ordeal you would hate. You can keep your goods safely with us and get arrangements done to make your relocation smooth and problem-free. Apart from Trucking Cubes, we own capacious warehouses located at strategic places all over the country, enabling us to offer secured and reliable Warehousing services near you.
Number:- 09300300300
Address:- Ludhiana, Punjab
3. India Best Packers and Movers
We IBP Movers Group Provide Packers and Movers Ludhiana for your all Household Goods items like Bed Sofa, Dining Table, Center Table, Chair, Fridge, Washing Machine, T.V., Almira With bubble and cargo seat and Lamination. We Pack Kitchen items and all other Daily need things. we also take care of packing of your Bed Room items Blankets and Clothings in Corrugated box. we Also Pack all small items and toys Books and other things of your kids.
Number:- +91 7227979900
Address:- Apurva Avenu, Samarpan Jakatnaka Road, Jamnagar-361004.
4. Siwach Packers And Movers
Welcome to Siwach Packers and Movers in Ludhiana. We are the best relocation service provider of over several years with our expert team. As Best packers and movers Ludhiana, we shift your stuff as expect with us, when you contact us our expert team reaches your doorstep to see how much stuff you have and which type of vehicle is used for moving your goods. Siwach Packers an ISO 39001:2012 & ISO 9001:2015 certified company is enough that you can trust before taking our sifting service in Ludhiana. We have an expert team and all types of vehicle that makes us a top-class of packers and movers in Ludhiana. We don't compare ourselves with others, but we are the best in ourselves. Our clients take our service again and again because of the way of serving our service, they are always happy with us.
Number:- 9357116596
Address:- Shop no 8. Uppal market near suvidha center transport nagar Ludhiana 141003
5. Vashist Packers & Movers
Vashist packers and movers in ludhiana, are based in all over India under the auspices of Vashisht Packer & Movers. we have been serving our ever expanding clientele with our value added service range. Our customers are free to tell us for any added service even after the delivery of the service for what they have asked earlier and we deliberately provide this with no string attached.For re-location – Hiring a packers and movers company- we have best professional staff to handle all the process.When moving homes, you have two choices, hire a cheap packers and movers and lumber physically with strain and concern; or hire the best packers and movers, and let them handle the stress and anxiety of moving! We are professional movers and packers Ludhiana provide 100% satisfaction during your relocation procedure .
Number:- +(91)-98883-22510,9911456458,92165-78555
Address:- SCO-7, Transport Nagar, Ludhiana – 141003
FAQs, About Packers and Movers in Ludhiana
What is the cost of hiring packers and movers in Ludhiana?

Packing and Moving Charges will depend on distance, the volume of inventory, season of relocation, etc. Still, the below table will give you an approximate idea of the cost of hiring packers and movers in Ludhiana. The prices are valid of both within city relocation and between city relocation: 3 Thousand to 14 Thousand.

What are the services that offer in Ludhiana?

All the major services offered by the best of movers and packers in ludhiana. This includes household relocations, pet relocations, office relocations, home relocations, vehicle relocations(both bike and car) along with a bunch of other moving services PAN India.
Latest posts by Karan Singh
(see all)