How to Start Affiliate Marketing for Beginners – Step-by-Step Guide
Thousands of freelance creatives, entrepreneurs, and online publishers use affiliate marketing to generate millions of monthly incomes.
Becoming an affiliate marketer is one of the best steps if you are a blogger or an online business owner.
Through affiliate marketing, companies can spread the word about their products and increase their conversion rate. Bloggers, influencers, and content producers can monetize their online business and generate income through affiliate marketing.
Read to learn more about affiliate marketing!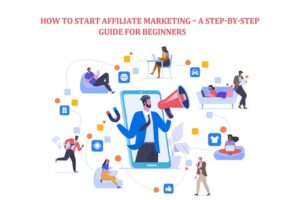 What is affiliate marketing?
Affiliate marketing is when you promote a product or service of another company. You earn a percentage when people make a purchase through your reference link. These incentives are usually a certain amount of the sale price of the product.
How affiliate marketing works
Affiliate marketing is a sales model in which a company pays a third party to sell its products or services. They're marketers if you've ever listened to a podcast or seen an ad for a product. In exchange for recommending products or services to their audience, they earn a commission on any sales that result from their referrals.
Once you choose an affiliate marketing program, you will receive a unique link or badge that allows companies to track all the customers you refer. You get a commission when a customer buys a product through your link. You can get the software directly from the company or through the network.
Step-by-Step Guide to Start Affiliate Marketing
Step 1. Decide on a Niche
The first step in any successful marketing strategy is choosing a target market and audience, also known as a niche.
A niche market is often characterized by the interests or trends of people that ultimately influence the quality and value of products.
For example, in the skincare industry, specific niches include baby skin care, anti-aging skin, or acne-prone skin.
Targeting a small market segment is more effective than following trends or appealing to the entire industry. Therefore, it is easier to establish brands, build experience and gain credibility.
Here are a few points to help you choose a niche for affiliate marketing.
Start with your passion or interest. 
Choosing a theme that you like will make creating content fun. On the other hand, select a topic you have learned about – knowing the product will help establish you as a reliable source.
Analyze your competitors. 
Determine the difficulty level of entering this niche. Find and prove your advertising position to stand out if it's a well-known brand.
Make sure the niche you choose is effective and sustainable. Select evergreen markets that are in demand throughout the year. A quick Google Trends or Ubersuggest search can help you check the popularity of a keyword.
Step 2. Choose the right platform.
With a niche in mind, it's time to decide where to target your ads and what kind of content you want to do. Two main affiliate marketing options exist a website or a YouTube channel.
YouTube can be a great place to expand your audience, build a brand, and promote affiliate products to an audience that trusts your recommendations.
But there are some shortcomings to starting with only a YouTube channel:
Video creation takes more time than written content. This limits how much content you can create when you begin your project.

Video is more difficult to outsource. Especially if you are the face of the road, you should participate in creating each video.

It takes a lot of work to expand your email list. YouTube does not have a built-in way to collect email addresses. But email is one of the most effective ways to communicate in business.

YouTube channels often earn a certain amount of money. It's much harder to get affiliate clicks from a video than from an excellent blog post.
Finally, it's nice to have both a website and YouTube. Embedding a video in a website link is also a great way to increase conversions. But if you're new, starting affiliate marketing from a blog might be more accessible.
Step 3. Find the Best Affiliate Programs
Having decided which niche to specialize in, it's time to join affiliate marketing programs. Partners can choose between two types of programs:
Affiliate networks
The affiliate network is an intermediary between publishers and affiliate programs of merchants. Subscribers can create a program on the platform, and advertisers can choose from multiple programs.
Affiliate marketing is great for beginners because they have almost everything you need for successful business marketing. They make it easy for users to register for multiple programs by hosting them all on the same platform.
Usually, a commission is paid for the year. However, your income is less than what is helpful for many in-house programs.
In-house programs
Companies can create their software on their own. Advertisers earn more commissions when they sign up but must register individually to participate in most programs. The best affiliate programs offer reasonable commission rates and maximize the effectiveness of cookies.
Step 4. Create Great Content
If you want your website to succeed, you must create the best content that matches your affiliate links. Don't just pick it up blindly from Amazon's best seller. Do your best and ensure your articles solve your readers' problems.
For example, if you are doing reviews, you should buy and try the product. Use it periodically and report your findings if you can work with experts to validate your research even better.
Step 5. Drive Traffic to Your Affiliate Website
Once you have enough social media, it's time to drive traffic to your website. This is necessary to attract leads, increase conversions and attract customers.
Therefore, creating an SEO plan is necessary – the higher your site appears in search engines, the more traffic you will receive. This includes optimizing keywords and links and making the site mobile friendly.
Here are some ways to drive traffic to your website:
Email marketing helps gently nudge readers into buying. You can communicate directly about product recommendations, limited offers, and regular updates by sending email newsletters. Use a generic email address with your website name to increase the chances of your email marketing being successful.
Be active on social media. 
Having a robust social media presence increases awareness. You can increase the engagement of subscribers and optimize content in hashtags to increase visibility.
Participate in online forum discussions. 
Online forums like Reddit and Quora are great places to connect with your audience. Because most advertisers don't allow affiliate links, they redirect people to blog posts or affiliate landing pages.
Reach out to sites in your niche and offer to write great posts for them. This will help attract an audience that is already interested in the topic to your website.
Step 6. Promote Your Affiliate Links
After you've created content using your affiliate links, it's time to get more people to see it.
Here are some marketing tips to help solidify your affiliate marketing strategy:
Attract customers with sales, giveaways, discounts, and promotions.

Post on forums and Q&A sites like Reddit and Quora.

Post on social media

Use an affiliate 

WooCommerce banner

 

on your website.

Use Facebook ads and PPC marketing.
Takeaway
Now that you've learned the basics of affiliate marketing take a look at these tips to increase your affiliate income:
Only promote brands you trust; honesty is essential. Sellers can tell when you're trying to make money.

Build relationships with your audience to maintain trust. Try to buy early enough.

Be clear; let your audience know that you are getting something by promoting the company's products.

Create positive and helpful content that resonates with customers.
Latest posts by Karan Singh
(see all)