How AI is Affecting Positively to Software Development Industry
Technological innovations, especially Artificial Intelligence has disrupted both major and minor industries, leading to an upscale in business functions. Among the industries disrupted, the software industry is definitely one of them. 
As more and more software and custom mobile app development companies all across the globe are adopting and integrating AI which can lead to a positive impact on the software industry. From the enhancement of decision-making process to the automation of services, Artificial Intelligence can help any company maintain a competitive edge.
Perhaps you're among those interested in AI development and are unsure about it. How will it impact your overall development cycle? Will it change how your company operates on a day to day basis? What role does AI play in Software Development in India?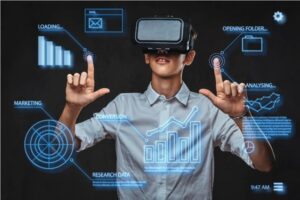 Artificial Intelligence developers or software developers will be quick to admit that AI, is the best decision a company can make. Below we take a look at how AI is affecting the software development industry. 
Design of the Software
Developers, especially those that specialize in software development are no strangers to the struggles of software development. In order to come up with a solution for a software project, a tremendous amount of work needs to be put into it. Due to the complexity that comes with every phase of design, errors are more than likely to occur.
Artificial Intelligence automates the complexity of the procedures to create a design that the client is satisfied with.
Automate Code Generation
So you've come up with a business idea and you can't help but be excited. However, if you are a software developer, that excitement is likely to disappear as fast as it came. Every business idea or project, at least in the software industry, needs to start by writing the code. 
Coding is extremely time-consuming and energy-intensive. The coding process if also frustrating, due to the likelihood of mistakes and bugs that can go noticed in a code. Artificial Intelligence automates the entire process and highlights any bugs that may go unnoticed. 
Requirement Gathering 
It goes without saying that human beings are prone to error. Regardless of the amount of effort put in a project, there will almost always be a loophole that will compromise a system. However, requirement gathering is a phase of the SDLC that requires human involvement. 
Artificial Intelligence offers a wide variety of techniques and tools that help minimize the required amount of human involvement. Hence, the chances of a system experiencing any loopholes are considerably minimized and eliminated. 
AI- Oriented Testing Services
Software testing is such a crucial step in software development that most developers tend to do it repeatedly. Carrying out the software testing process can be cumbersome. This is due to the fact that repeated testing requires changes in the source code.
Regardless of the aforementioned disadvantages in carrying out repeated testing, it still remains a crucial process. Software testing guarantees product quality and therefore; cannot be ignored. Artificial Intelligence, which comes with a variety of tools, help carry out automated testing. One such tool, which is known as Functionalize, is credited for ensuring error-free and effective testing services. 
About Author
Ranjeet Kumar, a Growth Hacker, SEO, SMO, Blogger and Digital Marketing Consultant with over 6+ years of IT experience. Loves to share marketing tips & strategies among online marketers. I loved traveling and blogging. 
Latest posts by Karan Singh
(see all)