6 Fun Ways to Spend Your Summer with Friends
Summer is the perfect time to spend with your friends, enjoying the warm weather and having some fun. Whether you're looking to relax on the beach, explore the great outdoors, or have an adventure, there are plenty of ways to enjoy the summer months. In this post, you will learn about six fun ways to spend your summer with friends that are sure to create lasting memories.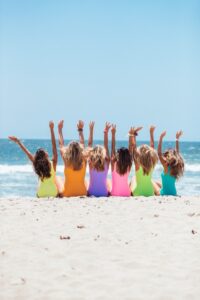 Go on a Road Trip
Hit the open road with your friends and explore new places on a summer road trip. Whether you want to visit a nearby city, national park, or beach town, a road trip offers a sense of adventure and freedom. Make a playlist of your favorite songs, pack some snacks, and enjoy the scenery as you drive. You can also plan stops along the way to check out local attractions and restaurants. Just make sure to book accommodations in advance, especially during the peak travel season.
Have a Beach Day
What better way to spend a summer day than soaking up the sun on the beach with your friends? Whether you prefer swimming, sunbathing, or playing beach volleyball, there's something for everyone at the beach. Pack a picnic lunch, bring some games, and spend the day enjoying the sand and surf. If you're feeling more adventurous, you can also try your hand at surfing, kayaking, or paddleboarding. Just make sure to stay safe and wear sunscreen to protect your skin from the sun.
Go Camping
Camping is an excellent way to spend quality time with friends while enjoying the great outdoors. Whether you're an experienced camper or a newbie, camping offers an opportunity to unplug from the world and connect with nature. You can go for a hike, enjoy a campfire, and make s'mores while catching up with your friends. Make sure to bring plenty of water, food, and bug spray, and don't forget to pack a comfortable sleeping bag and a tent. If you don't have your camping gear, consider renting from a local outfitter or borrowing from a friend.
Try a New Water Sport
If you're looking for a unique way to spend a summer day with friends, consider renting a boat from local boat dealers. Whether you're interested in fishing, waterskiing, or simply cruising around the lake, a boat rental offers a fun and relaxing experience on the water. You can also bring your food and drinks and have a picnic on the boat, or stop at a nearby restaurant for lunch. Just make sure to follow all safety rules and regulations, and wear life jackets at all times.
Host a Barbecue
There's nothing like a summer barbecue to bring friends together. Fire up the grill, make some burgers and hot dogs, and enjoy some cold drinks on a warm summer evening. You can play some lawn games like cornhole or bocce ball and enjoy some music while you catch up with your friends. A barbecue is a simple but fun way to spend time with your friends and enjoy the summer weather.
Attend a Festival or Fair
Summer is the season of festivals and fairs, and there's bound to be one happening near you. Whether it's a music festival, a food fair, or a carnival, attending an event with your friends is a great way to create new memories. You can sample new foods, listen to live music and explore the attractions together. Be sure to take plenty of photos to remember the day both with your friends and of all the fun things that you experience together.
Insights and Takeaways
In conclusion, there are plenty of fun ways to spend your summer with friends, whether you're looking for adventure, relaxation, or just some quality time together. From road trips to beach days to water sports, there's something for everyone. So get out there and make the most of the summer months with your friends. And if you're looking for a way to enjoy the water, don't forget to check out boat dealers in your area. Happy summer!
Latest posts by Karan Singh
(see all)