Best 4K DSLR Cameras in India
Best 4K DSLR Cameras in India 2020 | 4K DSLR Cameras in India | Top 5 Best 4K DSLR Cameras in India
The 4K DSLR cameras combine the idea of Ultra-HD resolution with Digital Single Lens Reflex cameras. These handhelds will replace any camera you have while leaving you with t298
He most amazing photography that you have yet to experience.
The key advantage is you could see in real-time, the exact scene you are about to capture. This is made possible through the optical viewfinder. Furthermore, there is no lag. With the inclusion of the interchangeable lenses, you can capture pictures and shot videos with the most realistic experience.
The below 3 aspects are important to consider before choosing the best 4K DSLR cameras:
Sensor: The type of sensor included in these cameras lays a great influence on the photography output. The choice of the sensor directly relates to image quality. Generally, the 4K DSLR cameras come equipped with sensors like CMOS sensor, Optical sensor, CCD sensor, and Digital Live MOS sensor. In some advanced models, there can be some other types of sensors.
In addition to sensor type, the sensor size is also significant. The bigger sensors usually convey better image quality. The sensor's size also relates to the dimensions of the photoreceptor array that creates a digital image from the pixels.
Lens types: When the matter comes to lenses, the 4K DSLR cameras usually offer the advantage of interchangeable lens construction. This means that their lenses could be substituted for other ones with higher or lesser zoom. Also, they can be substituted with some other shooting features. The lens types generally found in such cameras are the Interchangeable lens, ASPH lens, and EF-M lens.
Other features: Some other features to look for include the connectivity options and LCD screen. The connectivity options usually incorporated are WiFi, GPS, and NFC.
Here is a List Of Top 5 Best 4K DSLR Cameras in India 2020: Reviews
SPECIFICATIONS
Sensor : APS-C CMOS sensor
Resolution :24.1 MP
Lens : Canon EF-M lens mount
Connectivity : WiFi, NFC and Bluetooth built-in
Weight : 390 grams
Launch year : 2018
Warranty : 2 Years
REASONS TO BUY
+ The bundled kit lens is compact and of decent quality
+ Outstanding user interface
REASONS TO AVOID
– Absence of an extra dial or buttons to personalize more shortcuts
– Battery performance is poor
In this Canon camera, the image processor used is the DIGIC 8 with 143 autofocus points. It benefits in terms of accuracy and speed of autofocus as well as burst photography. The sensitivity range is ISO: 100-25600. This range is critical for capturing grain-free pictures, particularly in low light conditions.
This model of the Canon EOS M50 camera is capable to capture 4K UHD 24p and HD 120p for slow motion. The 4K UHD 24p is useful for recording high-resolution videos with incredible details as well as cinematic moments. Now you can capture attractive photos with the use of a 24.1 MP (APS-C) CMOS Sensor and the built-in Electronic Viewfinder.
SPECIFICATIONS
Sensor : Optical Sensor
Resolution :16 MP
Lens : Interchangeable lens
Connectivity : Panasonic Image App, Wi-Fi
Weight : 644 grams
Launch year : 2018
Warranty : 2 Years
REASONS TO BUY
+ 4K delivers a lifelike viewing experience
+ Low light AF allows focusing subject more accurately
REASONS TO AVOID
– Picture quality can be better
The Panasonic LUMIX G7 camera is famous for delivering the professional-grade photo and video performance. Its camera body is made compact and sleek in design to appear beautiful. One important specialty is the high-resolution viewfinder. You will be able to get lifelike photography experience every time.
The specifications state that this Panasonic 4K DSLR camera comes with Optical Sensor having a resolution of 16 MP. This sensor is essentially a micro four thirds sensor. Basically, this professional-grade Panasonic digital camera accepts over 24 compact lens options that are built on the next-generation interchangeable lens camera (ILC). The included sensor comes with a low-pass filter to capture sharp images with an artifact-free performance and high dynamic range.
SPECIFICATIONS
Sensor : APS-C Size Sensor
Resolution : 24.2 MP
Lens : 26 Fujinon quality lenses
Connectivity : Bluetooth low energy technology
Weight : 1.37 kg
Launch year : 2018
Warranty : 2 Years
REASONS TO BUY
+ Durable build quality
+ Comes with a full suite of creative options
REASONS TO AVOID
– Poor battery backup
– The motorized lens avoids manual zooming in
When you are looking for a 4K DSLR with a decent quality lens, the aforementioned Fujifilm mirrorless camera is a decent choice. The included sensor and camera features allow you to fulfill your photography goals. This mirrorless camera is made unique by its high magnification electronic viewfinder. The powerful battery life is one more plus point.
The specifications state an APS-C size sensor and an image resolution of 24.2 MP. The lenses included are 26 Fujinon quality lenses. These lenses are compatible with the prevailing XF/xc Lens line-up. They encompass focal lengths varying from 15mm to 1200mm.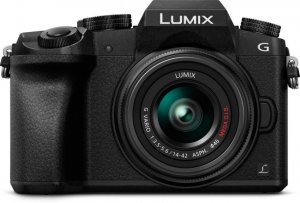 SPECIFICATIONS
Sensor : Digital Live MOS sensor
Resolution : 16 MP
Lens : ASPH Lens
Connectivity : Bluetooth
Weight : 1.28 kg
Launch year : 2018
Warranty : 2 Years
REASONS TO BUY
+ Supports ultra high-speed focusing
+ Allows shooting videos without shake
REASONS TO AVOID
– Not durably built
– Requires a gimbal for professional photography
The need for outdoor shooting arises frequently, and for that, the Panasonic DMC-G85H camera is a superb choice. You can capture high-resolution, sharp images with more details. It is quite e easy to capture the fastest-moving action scenes through this camera.
The DMC-G85H is equipped with a 16 MP Digital Live MOS sensor. It comes with an ASPH lens. With the presence of the low-pass filter, this camera allows you to capture sharper images with more details. The sensitivity range is up to ISO 25600.
When it comes to recording the important features include 180fps slow-motion recording and4K 4:2:2 10 bit internal recording. The camera is capable to capture 6K Photo at 30 fps.
SPECIFICATIONS
Sensor :LUMIX G7's sensor
Resolution :16 MP
Lens : 14-42mm MEGA O.I.S. Lens
Connectivity : Panasonic Image App, Wi-Fi
Weight : 408 grams
Launch year : 2015
Warranty : 2 Years
REASONS TO BUY
+ Comes with a high-visibility viewfinder
+ Its rear camera is perfect for beginners and professionals
REASONS TO AVOID
– Excessively priced
– The menu is too much packed
You will be able to capture high-quality images in the dim light conditions up to ISO 25,600. Moreover, the LUMIX G7 compensates for typical image-quality problems created due to shooting with a tiny lens aperture. The maximum shutter speed found is 1/16000 seconds.
The video capture resolution is 4K UHD 2160p. The exclusive 4K Ultra HD video technology allows you to easily pause and extract the perfect photo moment. With the help of the 4K Ultra HD video at 30 fps, you will never miss any photo.
There are three ways in the 4K photo modes to let you capture the perfect shot. The important camera features include high-visibility viewfinder, intuitive controls, high-speed auto-focusing with DFD technology, quick and accurate autofocus tracking, enhanced control, and flexible expandability options.
Conclusion
To get the lifelike photography experience with great simplicity, these are the best 4K DSLR cameras to consider. They let you capture images and shot videos in high resolution, great clarity, and without blur.
The Canon EOS 80D 24.2MP Digital SLR Camera is the best choice from this list when you want to have a camera with high image resolution, efficient sensor, and lots of connectivity options. The Fujifilm X Series X-T100 24.2MP Mirrorless Camera excels in terms of high-resolution viewfinder, powerful battery life, and decent quality lens.
Latest posts by Karan Singh
(see all)