Top 10 Best Online Shopping Apps in India List
This article will present you with the most loved 10 Shopping Apps that grabbed most Indian people's attention and got them the best deals to shop for.
As the concept of working online and ecommerce business are booming at a high rate, people are naturally being attracted to them with the fantastic deals that they provide. People have always loved shopping Apps, and with these kinds of deals provided in different portals, one can surely not stop themselves. Eventually, as a business is increasing, competition between companies is also growing, and hence, listed below are some most used and loved online shopping Apps or portals that have a cut-throat competition and are excessively used among people.
These portals and apps have emerged as the most convenient and time-saving medium of shopping and growing the company's sales. While some people still believe in walk in-store shopping, many love shopping online where they can tap on their phone screen and get the things they want, from clothes to furniture or any other products, name them and all will be present in these portals. Below is the list of top 10 best online shopping apps in India.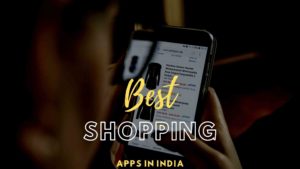 List Of Top 10 Best Online Shopping Apps in India
1. Amazon

2. Flipkart

3. Facebook Marketplace

4. eBay

5. OLX

6. Nykaa

7. Myntra

8. Jabong

9. Hopscotch

10. BigBasket
1. Amazon
The most used platform in India and the whole world, Amazon (1), has always been a person's favorite Shopping Apps on their phone to order things from. From electronic items to Books, mundane things are often ordered from Amazon and have a very user-friendly interaction with a consumer.
Amazon has always presented many options for a consumer in terms of buying or selling; they earn through commission, and people interested in the portal can register themselves and can even increase their sales if they produce any product. In terms of buying or selling, an individual is most welcomed there.
Visit Site : Link
2. Flipkart
The victorious Indian online shopping Apps, Flipkart (2), increased at a high rate and grew to be Indian People's favorite in terms of online shopping. This portal can be claimed to generate a buzz of Online shopping among people and was the first in this method of selling things online.
Flipkart has been regarded as the safest and user-friendly software of all and has indeed set an example for people to commence their online business. It works almost the same as Amazon, and hence there is always fierce competition between Flipkart and Amazon. Flipkart has the most convenient options for return, replace or reviews through their app.
Visit Site : Link
3. Facebook Marketplace
Still unknown for some people, Facebook (3) can bring some unique opportunities for people, not only through socializing is possible, but one can sell their products through this medium and even buy them. As Facebook is severely used by people worldwide, one can surely find amazing deals from any part and choose their products as well. One can quickly get deals done and socialize at the same time.
Visit Site : Link
4. eBay
Old is gold, and so does is eBay (4). The oldest yet most used shopping app is always in the competition when a person needs to buy things. From new to 2nd hand products, one can easily browse for the items they need. With a unique concept, it was launch back then, but as of now, eBay has a lot of competition with Quikr, etc. and yet has proven to be people's choice.
There is a massive list of products through which a person can select their products. From categories like apparels to electronics, one can get some crazy deals from this portal and add up to their list.
Visit Site : Link
5. OLX
The most common phenomenon that happens when we talk about OLX (5) is the jingle "OLX pe bech de" plays in our mind, and maybe a similar thing happened with you right now. As their rhyme suggests, OLX is a verified buying and selling app for second-hand products.
This shopping apps has a location feature that automatically allocates your locations and shows personalized deals from the people around you. Buy from the person near you if you feel, or else can even confirm arrangements across cities and products from them. Whenever one is in a low budget but wants things as fresh as new, then they can surely use the portal of OLX and have access to new deals and opportunities of your interest.
Visit Site : Link
6. Nykaa
The most loved app of every Indian female, Nykaa (6), has brought a revolution in online shopping and specializes in cosmetics. From a simple lipstick to skin products, one can select their product from a hundred companies and has several attractive deals daily. Nykaa also has beauty-related electronic products; in short, it is a one-stop destination in terms of beauty and wellness.
The app is super easy to access and, in no time, has a substantial female following and a fan base. It came as a super online shopping portal, and within a short time, it has also been developing its clothing store and now has GAP clothing brand even as its products. A few months back, Nykaa has also started to establish its walk-in stores where people can select their products and have amiable staff.
Visit Site : Link
7. Myntra
Myntra (7) is the Indian online shopping portal which is specialized in clothing, apparel, and footwear. Instead of being an all-rounder app, they decided to focus on fashion and indeed have developed themselves as a successful brand. From men to women, Myntra always comes in one's mind when they think about buying clothes online.
It has an interactive-sized guide, which helps you find your size easily and has a small brand to the most prominent brands of all. With fantastic discounts and offers, users are always attracted to buying from Myntra.
Visit Site : Link
8. Jabong
Talking about Myntra cannot make us stop talking about Jabong; it is yet another fashion-related shopping apps and the rival of Myntra, although Jabong (8) focuses on fashion shopping but also has Home decor and additional products on their portal, which makes it stand out from any other fashion portal. For many people, it can act as a one-stop destination to buy products and that too, with surprising and interactive deals.
Visit Site : Link
9. Hopscotch
With a playful name, Hopscotch (9) portal is exclusively made for Children and their interests. People can search for several products for their children, from apparel to accessories, one can select products according to their age group as well. People are always concerned for their little ones, and hence instead of providing cheap useless products, they focus on having a quality more than anything else.
They understand that a child's and a mother's satisfaction is the priority and has some excellent and accessible policies and returns for people. It can be regarded as a very interactive and understand app for people with young ones.
Visit Site : Link
10. BigBasket
One of the leading online grocery shopping apps, BigBasket (10) brings you all the groceries of your need without any effort except just a few taps on your phone. From vegetables, fruits to beauty, and hygiene products, one can order it all through a big basket. This portal works primarily for your needs and caters to them. BigBasket prominently delivers to your address and can be a convenient method of buying groceries for people who spend most of the time managing their house.
With a vast market and competition, these are the top 10 shopping apps that have grown to be people's favorite. With amazing deals and options, one can choose products and get them on your doorstep without any effort and quickly.
Visit Site : Link
Latest posts by Karan Singh
(see all)