The 5 Best places to visit in Udaipur, Rajasthan During Monsoon
Udaipur has a lot of beautiful places to be discovered in every season; every corner and corner of Udaipur hold a different story for you. The monsoon is the best season to discover all these mesmerizing nooks in Udaipur. Monsoon will make you the witness of lush green flowing fields, colorful clouds, sky full of rainbows and lakes with blue reflection which held my heart yearning to capture its real beauty but failed multiple times. Below is the list of top 5 Best places to visit in Udaipur during monsoon, you can visit this location and enjoy you holidays.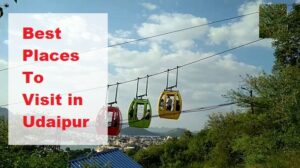 List of top 5 Best places to visit in Udaipur during monsoon
1. Monsoon Palace

2. Panna Boat Museum

3. Neemach Mata Temple

4. Karni Mata (Ropeway)

5. Tidi Dam
1. Monsoon Palace
Sajjangarh is a palace in the city of Udaipur in Rajasthan, India. It was constructed between 1746 and 1754 by Maharana Sajjan Singh (r. 1743–1750). A five-story building with a height of 124 meters (407 ft), it has been described as one of the most grand palaces of Rajasthan. Built to enjoy the cloud-kissing view of the city from above, the palace remains remarkably intact despite partial damage due to an earthquake in 1967.
2. Panna Boat Museum
This museum is located right on the bank of Lake Goverdhan. There are several vintage boats which were used by the royal family of Mewar and other parts of India. This place again is extremely fascinating for old-timers; there are tales and stories behind each boat which makes them even more interesting. The marveling beauty of these boats make this place perfect to visit on a relaxing day as you sit on the grassy banks and enjoy the fun ambiance.
3. Neemach Mata Temple
Fateh Sagar is a lake and at the middle of the lake there's a bridge named as 'Neemach Mata Temple Bridge' on which we can reach Neemach Mata Temple. It's situated 7-10 minutes climb from the Fateh Sagar road end. Not only this climb is very close to the monsoon season, rainy seasons and mostly weekends are also quite crowded to visit the temple. If you want to adore the alluring lake with less hustling and bustling then you must collect time in advance before visiting the temple.
4. Karni Mata (Ropeway)
Goddess Karni Mata is the presiding deity of the great desert city. She is worshipped by numerous Hindus and followers of other religions as well. The Ropeway at Keshav Dev temple is catching on quickly. The rusty twisted ropeway was constructed in 1990s, which makes Karni Mata Ropeway one of the oldest ropeways in India. It was established during the reign of the then Rajasthan Chief Minister Gajendra Singh Babu and it costs a few rupees to use it.
5. Tidi Dam
A huge 67ft. high Dam located at a distance of 34kms from the main city is an enchanting location to be visited during monsoon season. In 1976 it was constructed by Hindustan Zinc Ltd. which now acts as the main water supply source for Zawar Mines.
My Udaipur City requests you to be cautious around the water and carry your own refreshments along with you to the place as there is no nearby eatery available there. Also we plead you not to litter and destroy the heavenly site.
Latest posts by Karan Singh
(see all)