Top 15 Best Bridal Lehenga Shops in Jaipur, Instagram lehenga stores
Hi Guys, In this blog, we are listing down the best bridal lehenga shops in Jaipur. Use it as your go-to guide while shopping in the city. Also, since we are based out of the city, it's not just information fished out from Google, but includes personal experiences from our team as well. This way you can be assured of it being an insider guide. Without further ado, let's start off with the list.
List of Top 15 Best Bridal Lehenga Shops in Jaipur, Instagram lehenga stores
1. Pratap Sons
2. Label Kanupriya
3. Kishori Sarees
4. Ranas Legacy
5. Karuna Deora
6. Pallavi Jaipur
7. Swati Ubroi
8. Zari
9. Vasansi
10. Mandakini
11. Radha Raman Fashions
12. Aari Tari
13. Roop Laxmi
14. Nikhaar Fashions
15. Unique Fancy Sarees
1. Pratap Sons
Starting off with one of my favorite stores in Jaipur. I have purchased a few times from here as well, including big events like cousin's wedding and parent's 25th anniversary celebrations. There's just something about this store you can't step out without purchasing anything. The collection is amazing and they change it every wedding season, so you can be assured of the latest styles being incorporated into your bridal attire. Lehengas start from around 15,000 and can go upto 60,000 or so. Bridal lehengas can easily be priced around a lakh or more.
If you are specifically looking for a pure bandhani saree or gota patti saree, we'd suggest not to purchase from this store or any of the other big showrooms (top 10), you can buy them from the last 5 stores mentioned on this list.
Address #1: SB-39 Tonk Road, Circle, near PC Jewellers, Rambagh, Jaipur, Rajasthan 302004
Address #2: Shop No-1, Saraogi Mansion, MI Road, Jaipur, Rajasthan 302015
Phone: 0141 270 6161
Instagram: https://www.instagram.com/pratapsonsjaipur/
2. Label Kanupriya
An affordable e-commerce store based out of Jaipur that has a bedazzling collection. They don't have an offline location but a very active Instagram and website. All lehengas range from 10,000 to 20,000. Mind you, they aren't a bridal lehenga store and just sell normal lehengas that you can easily don for your haldi or mehendi. Most of their collection is focused on kurtis and sarees. But it was worth mentioning in the bridal lehenga blog because of the unique and economical collection they offer.
Website: https://www.labelkanupriya.com/
3. Kishori Sarees
Don't go by their name. The store doesn't only sell sarees, but also has a wide collection ranging from kurtis, lehengas to sharara sets. Being an upscale store, the pricing is a little high. But if you're someone ready to shell out a few bucks in exchange for good quality, Kishori sarees won't disappoint you. Being a big store, you might have to go through a lot of designs before finding the one for you.
Address: 3-Tonk Road, Diggi House, Opposite Maharaja College, Jaipur, Rajasthan 302001
Phone: 096492 14444
Instagram: https://www.instagram.com/kishorijaipur/?hl=en
4. Ranas Legacy
One of the oldest names in the city, Ranas legacy is known to create timeless pieces that can be passed onto generations to come. They host a varied collection and have a supportive staff, ready to help their customers whenever possible. One of my colleagues has purchased a lehenga from this store, and she can't stop raving about their collection. They do justice to their reputation and have a lot of fine designs.
Good news is they are quite affordable as well. Lehengas start from 10,000 and can go till 30,000. Bridal lehengas start from around 70,000 and can go upto 1,20,000 or so. They also have an e-commerce store with gorgeous lehengas, sarees, kurtis ready to order.
Address: 8, Narayan Singh Rd, Rambagh, Jaipur, Rajasthan 302001
Phone: 0141 256 1002
Instagram: https://www.instagram.com/ranaslegacy_jaipur/?hl=en
5. Karuna Deora
Enter Karuna Deora only if you're willing to splurge on your dream wedding look! They are a well-established name in Kolkata and opened their Jaipur store just around 2-3 years back. I have visited their Kolkata store too and loved the collection. Although, they were a little pricey for me. Lehengas can start from around 50,000 and go upto 1.5 lakhs. If that fits into your budget, please enter their magnificent store without any hesitations. Some of the designs are also Sabyasachi inspired, if you are into buying them.
Address: A-19, Sahakar Marg, near Nehru Sahkar Bhavan, Jyothi Nagar, Lalkothi, Jaipur, Rajasthan 302005
Instagram: https://www.instagram.com/karuna_deora/?hl=en
6. Pallavi Jaipur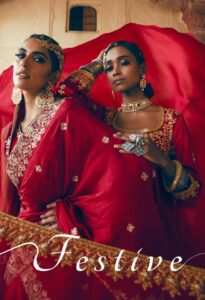 A new name to enter the Jaipur lehenga market, Pallavi has nonetheless made a lasting impression on us and anyone who comes across her couture line. She has also dressed many celebrities in just a few years of her launch, and that's gotta attest to the quality and contemporary designs in her attire. Our favorites have to be the Shilpa Shetty saree and Riddhi Dogra's ivory maxi dress. She has an e-commerce store and most of the couture pieces are ready to purchase.
Just to inform you, hers is an expensive couture line though. The priciest on the list and somewhere around the price range of Swati Ubroi, Karuna Deora and Kishori.
Address: 17-K-4, Sahakar Marg, Jyoti Nagar Housing Board Flats, Lalkothi, Jaipur, Rajasthan 302005
Phone: 087695 61711
Instagram: https://www.instagram.com/pallavijaipur/?hl=en
7. Swati Ubroi
A self-made designer who offers authentic, uniquely designed bridal couture to her customers. If you're someone who likes to stand out with their clothes, Swati Ubroi is a must-visit lehenga shop in Jaipur for you. Her contemporary designs are perfect for our millennial brides. Check out her Instagram to witness the glory of her outfits and we're sure you'll be lured to visit her store at least once during your lehenga hunt.
Address: C 25, Bhagwan Das Rd, Panch Batti, C Scheme, Ashok Nagar, Jaipur, Rajasthan 302001
Phone: 099291 12400
Instagram: https://www.instagram.com/swatiubroi/?hl=en
8. Zari
One of the most bustling lehenga shops, situated right in the middle of Jaipur, Zari has served women of Jaipur for quite a long time now. Over the years, they have garnered ample reputation and popularity to open a big store with 3 floors right on the main road. The collection is fresh, conventional and is replete with traditional regional work like gota patti and leheriya. Some of their outfits can be pricey but not more than the three we have already mentioned on the list. Their bridal lehenga range is our favorite and strikes a perfect balance between traditionalism and modernism.
Address: 10/11, Narayan Singh Circle, Tonk Rd, Jaipur, Rajasthan 302004
Phone: 0141 515 8500
Instagram: https://www.instagram.com/zarijaipur/
9. Vasansi
Probably the only veteran Jaipur lehenga shop that has a fully functional e-commerce site offering everything from lehengas, anarkalis, sarees, kurtis, dress material etc. Moreover, you can also book an online consultation for a seamless shopping experience. As you can see from this link right here, most lehengas are priced between Rs.15,000/- to Rs.30,000/-. Bridal lehengas are obviously priced higher. But we think we have found a perfect store for your mehendi, haldi and sangeet lehengas, haven't we? Do check out their multi-colored lehengas, they are easy to carry and look spectacular when worn.
Address: D-69A, Jawahar Lal Nehru Marg, near Teen Murti Circle, Jaipur, Rajasthan 302004
Phone: 0141 663 1200
Instagram: https://www.instagram.com/vasansi_jaipur/
10. Mandakini
Another popular Indian outfit store in Jaipur. They aren't as active online, but trust me they have beautiful collections and drool-worthy lehengas that will have you hooked. They have two stores all over India – one is in Kolkata and other in Jaipur. Being in the lehenga business for a long time, you can trust the quality of their outfits. Unlike other stores, they don't offer sale on their lehengas anytime of the year, price is fixed and bargaining isn't an option.
All that being said, their premium variety of outfits makes them a must-visit bridal lehenga shop in Jaipur. Price range starts from around 20,000 and can go till 50,000. Bridal lehengas will cost around a lakh or more.
Address: B-285, Vaishali Circle, D – Block, Vaishali Nagar, Jaipur, Rajasthan 302021
Phone: 0141 403 8899
11. Radha Raman Fashions
A bridal lehenga store located in Raja Park area of Jaipur. There's only one recommendation from this area, even though a lot of stores have now opened here. We aren't as sure about the quality at other places, this one, on the other hand, has some amazingly positive reviews. The store has a massive variety of lehengas, and it might take you an hour or two to check out their full collection. However, all of their ensembles are created with such intricacy and perfection, you'll definitely find something you love in here.
Address: Shop.No.1, Plot.No 225 -226, near Parnami Mandir Chouraha, Raja Park, Jaipur, Rajasthan 302004
Phone: 098280 50460
12. Aari Tari
Yet another hidden gem in the vibrant lanes of Jaipur's old city area. A store that ecompasses outfits for all your functions, so whether you need a zari embroidered red lehenga for the D-Day or an ivory sequined lehenga for your sangeet – Aari Tari has got it all! With supportive staff helping you out by escorting outfits that suit your style & taste, the whole experience at Aari Tari will make you want to visit them again.
Address: 221, Johari Bazar Rd, Johri Bazar, Pink City, Jaipur, Rajasthan 302003
Phone: 0141 256 9070
13. Roop Laxmi
Located in the heart of pink city, Roop Laxmi sarees is one of the most popular stores in Jaipur's old city area. It's always crammed with people, so we'd advise you to visit the store early in the morning, by around 11. Due to their economical prices, this store is made for brides on a tight budget. Even bridesmaids and mother of the bride can shop here!
Address: 181, Johari Bazar Rd, Tripolia Bazar, Pink City, Jaipur, Rajasthan 302003
Phone: 098286 26666
14. Nikhaar Fashions
A hidden gem in the narrow lanes of Pink City. Pratap Sons actually has two stores, one in Saraogi Mansion, Jaipur's old city area and another in the new city. Nikhaar Fashions is located right opposite to their old city location. So you can cover two stores on this list by visiting one area. The outlets have a stunning lehenga collections at pocket-friendly prices. One of the most popular stores in Jaipur's bustling lanes of old city, we're sure you'll find something that suits your taste & style over here. And yes, the salesmen in here are quite helpful as well and are ready to customise according to your requirements.
Address: Saraogi Mansion, Ground, MI Road, near Ashoka Furnishing, Jaipur, Rajasthan 302003
Phone: 098290 63354
15. Unique Fancy Sarees
It's not a fancy store like all the above shops mentioned above, but has a winsome range of lehengas in a very impressive budget. I purchased my lehenga for my brother's wedding from here, and received so many compliments for the same. Although, their lehenga pieces become common quickly. Since they have a good budget, a lot of people buy from this store. So if you want to stand out, purchase from this store like a month or two before.
Also, this store doesn't have a bridal lehenga range, but you can find something appealing for all your other functions here. And oh, if you're looking for a bandhani or a leheriya saree, this is your store.
Address: D-6/429, Chitrakoot Marg, near sbbj bank chouraha,chitrakoot, Bhura Patel Nagar, Vaishali Nagar, Jaipur, Rajasthan 302021
Phone: 088903 09111
Latest posts by Karan Singh
(see all)