Guide to Looking Put Together but Comfortable
You can attain a trendy and professional image by using the appropriate approach, all while still feeling comfortable in the items you wear. It is possible to seem put together while feeling at ease, regardless of whether you are heading to work, doing errands, or meeting friends for a casual event. The key is to create a balance between the two. This article will discuss many suggestions and techniques that can assist you in achieving an attractive and comfortable style. These tips will guarantee that you feel confident and at ease in your clothing selections by ensuring that you choose the appropriate materials and embrace casual shapes.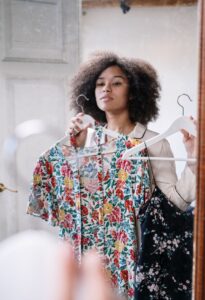 How to Look Put Together While Still Being Comfortable Guide
Choose Comfortable Fabrics
The choice of fabric is crucial when assembling a comfortable and stylish ensemble. Look for fabrics that are soft, lightweight, and breathable to ensure optimal comfort throughout the day. Natural fibers such as cotton, linen, and bamboo are excellent options as they offer a high level of comfort and allow the skin to breathe. Additionally, garments made from fabrics with some stretch, like blends containing spandex, provide ease of movement while maintaining their shape. When selecting your clothing, it's best to avoid rigid or constricting fabrics that can cause discomfort. 
Power of Versatile Essentials
Build a stylish and comfortable wardrobe by embracing versatile basics. Invest in well-fitted jeans, comfortable flats, and a classic white shirt. These timeless pieces can be mixed and matched to create chic outfits suitable for any occasion. Pair jeans with a white shirt and flats for a casual look, or dress them up with tailored trousers and heels. Versatile essentials provide endless possibilities while ensuring you feel confident and at ease in your clothing choices. Embrace the power of these foundational pieces to unlock your style potential effortlessly.
Invest in Footwear That Can Serve Multiple Purposes
Finding comfortable footwear is crucial for ensuring all-day comfort. Look for shoes that provide enough support and cushioning, such as low-heeled boots, flats with arch support, or sneakers with memory foam insoles. It would help if you also tried avoiding shoes with too high heels. Choose neutral-colored shoes so they can be worn with a wide range of clothes without seeming out of place. You can simply upgrade your style without compromising comfort if you invest in fashionable and comfy shoes.
Build Your Outfit Using Lightweight Items
The art of layering is one of the best ways to give an outfit more depth and intrigue while still giving priority to comfort. Choose lightweight layers that can be readily added or removed depending on the climate, such as cardigans, kimono jackets, or duster coats. Your whole appearance will be given a more polished feel by these items, in addition to the adaptability they provide. You may explore Zac and Rachel clothing for inspiration and guidance on crafting fashionable and lightweight layered outfits and elevating your style with ease.
Ensure a Good Fit
When it comes to creating a polished and well-put-together outfit, finding the right fit is paramount. Avoid the pitfalls of wearing clothing that is either too tight or too loose, as it can lead to discomfort and a less-than-polished appearance. Instead, opt for figure-flattering garments that highlight your best features. Consider the power of expert tailoring to enhance both your comfort and overall appearance. By ensuring that your clothing is tailored to your unique body shape, you can make a significant improvement in both style and comfort. 
Accessorize
The right accessories can take an outfit to the next level and provide an air of sophistication to your entire appearance. Pick accessories you won't mind wearing all day, such as thin scarves, jewelry with a minimum of adornment, and functional and fashionable purses. Steer clear of items that are too heavy or bulky since they might become a source of distraction or impede your mobility.
Conclusion
In conclusion, creating a stylish and comfortable look is attainable with the right mindset and thoughtful choices. Prioritize comfort by selecting clothing made from comfortable materials, investing in versatile footwear, and layering lightweight items for adaptability. Pay attention to the fit of your clothes and choose accessories that enhance your sense of relaxation and confidence. By following these principles, you can achieve a professional and polished appearance without sacrificing comfort. Embrace your individual style and find the perfect balance between style and comfort that works for you.
Latest posts by Karan Singh
(see all)