How to Start a Self-Defense Training Business?
We live in a world where no one can guarantee our safety. A sensible person takes the responsibility of defending himself/herself. Therefore, you can help people defend themselves by offering a range of options through your self-defense business. Let's see how you can start a self-defense business in 2023.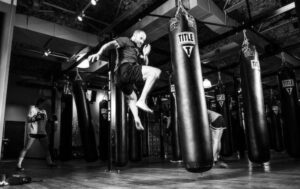 What Is a Self-Defense Business? 
A self-defense business is all about offering or teaching methods of self-defense in order for individuals to defend themselves under difficult circumstances. It has trained professionals who educate people on protecting themselves from crimes, robberies, and stalkers.
The main purpose is to ensure the safety of people so they can know how to deal with every type of attack. Self-defense skills aren't enough to start a self-defense business. You should know how similar self-defense industries work, your target audience, and what type of training is for which age group.
Essentials To Keep in Mind When Starting a Self-Defense Business 
These are the essentials you should have in mind before finalizing your self-defense business. 
Plan your self-defense business 

Try to make your business recognizable legally by registering it

Keep a separate bank account, phone number, and email id for your self-defense business 

Apply for a license pertaining to your self-defense business 

Follow and apply for all the insurance policies 

Create a website for the Self Defense Business and market it
Know The Market, Trends, And Challenges of Self-Defense Training 
Not everyone will be interested in your self-defense training business. 
Who Shows Interest in Self-Defense Training?
There will be individuals in their thirties who would show interest in your business. Usually, you will see young boys coming to you mainly because they are living alone or want to provide safety themselves without the help of guardians. Moreover, for women's safety, many classes are organized for women, especially those who have been through trauma or bad experiences, who will be interested in self-defense training. 
Know The Current Trends in The Self-Defense Business
Self-defense businesses have the opportunity to earn more than before as many families as a whole are coming to attend training sessions.
It's like a trend that all family members are getting the training. People prefer training in the comfort of their homes. Therefore, self-defense training is being done online in many places. Series like Cobra Kai, where there is karate training, motivate more people to show interest in self-defense training.
Know The Current Challenges Self-Defense Training Businesses Are Going Through 
Competition for new relevant industries is increasing as there is an increase in demand for online classes

Self-defense trainers have to continue their education in this field and mold themselves according to the current situation in the world

Since registering your business is a time taking process, if you don't have a certificate, it won't be easy to give credibility to your business

There are several well-known self-defense business studios like Martial, hence you will have difficulty getting recognized
How Much Should You Invest Initially in Your Self-Defense Training Business? 
You don't need to invest much; you can start this business from your home garage, gym, or backyard. For this, you need around $2000 if the place is yours. 
Items Needed in The Self-Defense Training Business
You must invest in mats, safety equipment, and training essentials like stun guns, pepper sprays, and knuckle dusters. Buying stun guns for training and selling them to interested trainers is a wise choice. Searching for wholesale stun guns on search engines or e-commerce websites may yield results from various sellers. 
Moreover, you will also need a license or a certificate for credibility to start the business. 
How Much Can You Earn from Your Self-Defense Training Business? 
You should charge around $80 per training session, which will give you a profit of over 70%. However, in your initial classes, you can organize 4 classes every week, giving you a profit of more than $50,000 every year. When your business expands and you get more space, you can increase the number of weekly classes to 10. 
How Much Will You Save In the End? 
When you expand your business, you will have to hire professional staff and pay the trainers too, which can be 35% of your profit. Still, you will be left with around $150,000 yearly after expanding and increasing the number of trainees.
Conclusion 
It's not just making money in the self-defense business. You train others because you have the skills. Initiating your business on a small scale by keeping classes at your home and then in a gym is smart. But if you plan on expanding the business, you should know what to upgrade and how many people to employ. Review the above article to gather relevant information for your self-defense business. 
Latest posts by Karan Singh
(see all)