How to use Google Pay for bank to bank transfer?
Recently the payment method under Google Pay name is getting quite popular. It uses UPI as India has it on quite a popular stage. A Google Pay Account can easily help you pay your bills, recharge your phones, book tickets, pay insurance premium, or recharge your DTH, you can also send the money into someone's bank account, etc. Here, we will guide you with the steps of sending money on a Google Pay Account from your bank account to another in just a few easy steps.
Follow the steps to use Google Pay for bank to bank transfer: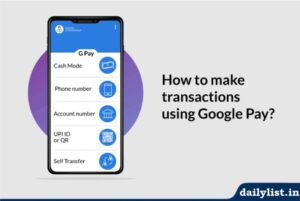 Install Google Pay App
If you don't have an account on Google Pay already, create one. The first step to use this service is to install the application. Google Pay app is available on both Android and iOS. After installing, sign into the app if you have an account. If you don't have a Google Pay account already, create one. It's as easy as clicking a few buttons.
Open the App
After downloading the Google Pay App, click on the Google Pay App in your app drawer.
Select New Payment
After opening, you will see a button named "New Payment" on your Google Pay home screen. Click on it.
Choose your Method
The next screen will show you various options. Select whichever you wish. Here, we assume that you have the bank account details of the person you want to send the money to. So choose "Bank transfer" here.
Enter Credentials
Enter the bank details of the person you wish to send money to, and click "Continue". If you have made a typing mistake, you will be asked to re-type the details.
Click Proceed
The screen will show you the amount you enter to transfer. After that press the tick. You can add a note if you wish. Check the details visible on the screen. After that, press "Proceed to Pay"
Enter UPI pin
The next screen will ask for your UPI pin. Enter it. And Proceed by clicking the "Tick". Your transfer is complete. You will receive SMS notifications from the bank and Google Pay as well.
Final Notes
As per the Guidelines of RBI, you are asked not to share your UPI pin with anyone, not even your friends and close relatives. Stay safe with easy methods to transfer.
Read Also:- Google Pay Referral Code
Latest posts by Karan Singh
(see all)